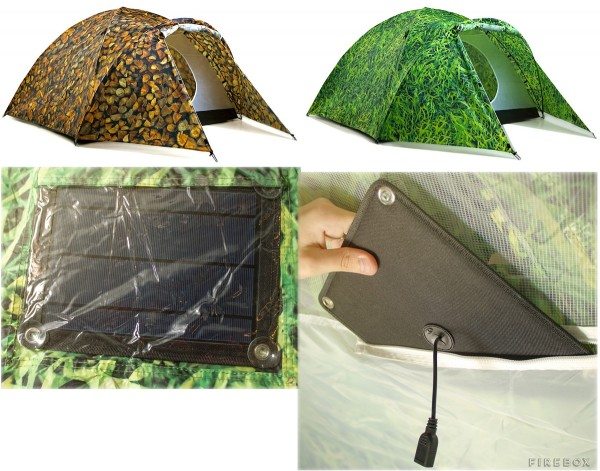 The Bang Bang Solar Tent incorporates a solar charging panel so you can keep your devices charged in the great outdoors. Â After all, you don't want to rough it too much! Â The 5W solar panel charges a lithium storage battery, which can then be used to charge phones, cameras, LED lights, and other low-voltage devices. Â The storage battery can also be charged via AC or USB power; it's a good idea to charge it up before your camping trip, then the sun will keep it charged for you. Â The tent is made of the "highest grade rip stop 5000HH grade waterproof polyester with PU coating, accompanied by a breathable polyester inner and double seamed 10000HH base." Â It opens to 98.4″ X 98.4″ X 59″ tall and weighs 11 pounds. Â It's available in Woodstock (left) and Fool on the Hill (right) patterns for $419.79 from Firebox.
Filed in categories: Cables, Batteries and Chargers, News, Outdoor Gear
Tagged: Camping, solar charger, Tent
Charge your devices while you recharge yourself in the great outdoors originally appeared on The Gadgeteer on April 21, 2014 at 8:00 am.
Source: http://the-gadgeteer.com/2014/04/21/charge-your-devices-while-you-recharge-yourself-in-the-great-outdoors/
POWERCHIP SEMICONDUCTOR PRICELINECOM QIMONDA QUALCOMM QUANTA COMPUTER